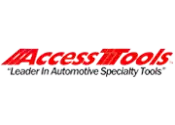 Access Tools / Access Tools
The Lightning Rod LR is our most popular long reach tool for those who work in low light conditions frequently. The super bright LED tip shines a beam of light visible at night or through deeply tinted windows.
The pre-bent shape makes it usable in most situations without any further modification. The Store-N-Go handle holds extra tips for the long reach tool as well as an extra battery. The rods scratch proof coating protects the vehicles finish when performing a lockout. The Lightning Rod Long Reach tool is a must-have for nighttime work or when seeing inside the vehicle is crucial to a quick and effective lockout.
Features
Led lighted tip
52" long
Pre-bent at a precise location
Includes extra battery and tips
Scratch-proof coating
Store-N-Go handle