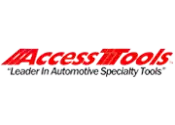 Access Tools / Access Tools
The new patented Snap-N-Lock SNL multi piece long reach tool take long reach tool technology to a whole new level. This is the only tool on the market with interchangeable tips that snap and lock into place.
This tool includes the handle base, pre-bent extension piece, and regular 90-degree hook tip. No threading piece together and no slipping or wobbling once assembled.
Features
Patented snap together technology
Interchangeable tips
Breaks down for easy storage
Scratch-proof coating
Store-N-Go handle for extra tip storage