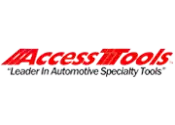 Access Tools / Access Tools
These slippery strips of rigid plastic make the insertion and use of a wedge easier in any situation. When you insert the Strip Savers SS prior to your wedge tool, you are going to prevent the weather stripping from rolling back and damaging.
The Strip Saver is thin enough that it will not create enough pressure inside the door to cause any damage.


Features
Slippery surface
Long enough to bypass weather stripping
Durable hard plastic construction