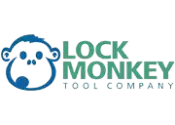 Lock Monkey / Access Tools
This tool is simply the fastest and easiest way to open commercial levers.
The UTDT is comprised of 2 parts and designed to open lever handle doors from the outside via reaching under the door. To meet commercial building codes lever handles are installed in place of round handles. This insures that during an emergency the inside door remains unlocked while the outside door lever is locked.
Features:
43" Spring Steel Rod
Removable Stainless Steel Cable
Nickel Plated
Made in the USA