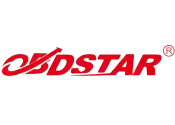 Obdstar / Key Programming Devices
KeyRT is a key renewing product developed by obdprog, including PC port operating software and KeyRT programmer. For the convenience of operation, it provides W001 connecting wire for welding method connection and W003 clamping wire without welding, and chip soldering small board for locksmith who is familiar with soldering to use.
BDSTAR Key RT Key Renew Tool Features:
PC software, renewing box, chip wiring board and W001 wiring.
Key RT box connects to a computer via USB;
If the original key is renewed, the Key RT box and the original key are connected via W001 wiring;
If there is no original key, the chip small board can be used to solder the chip and connect to the key RT box to renew.
The specific connection method is shown in figure: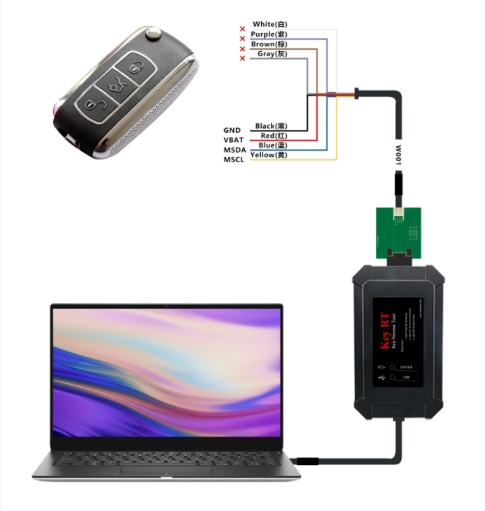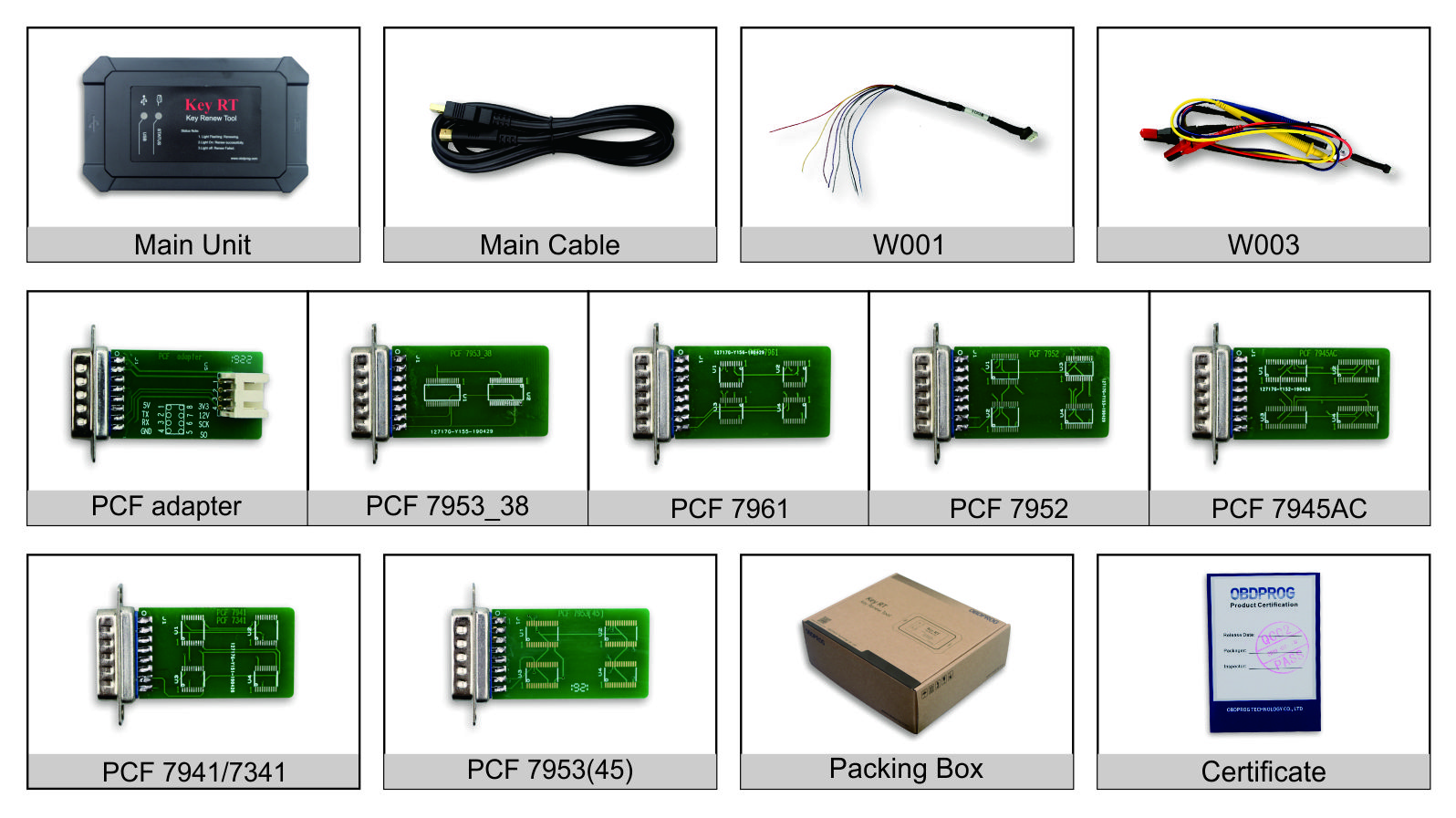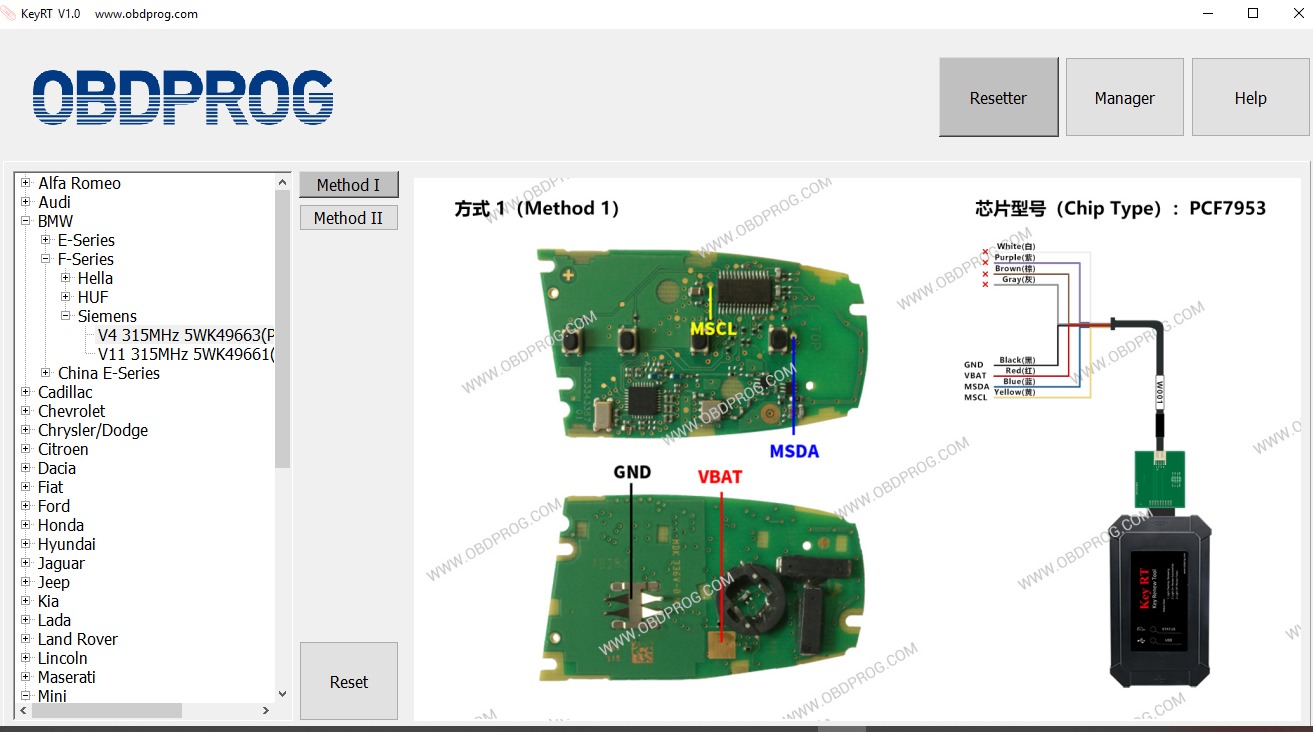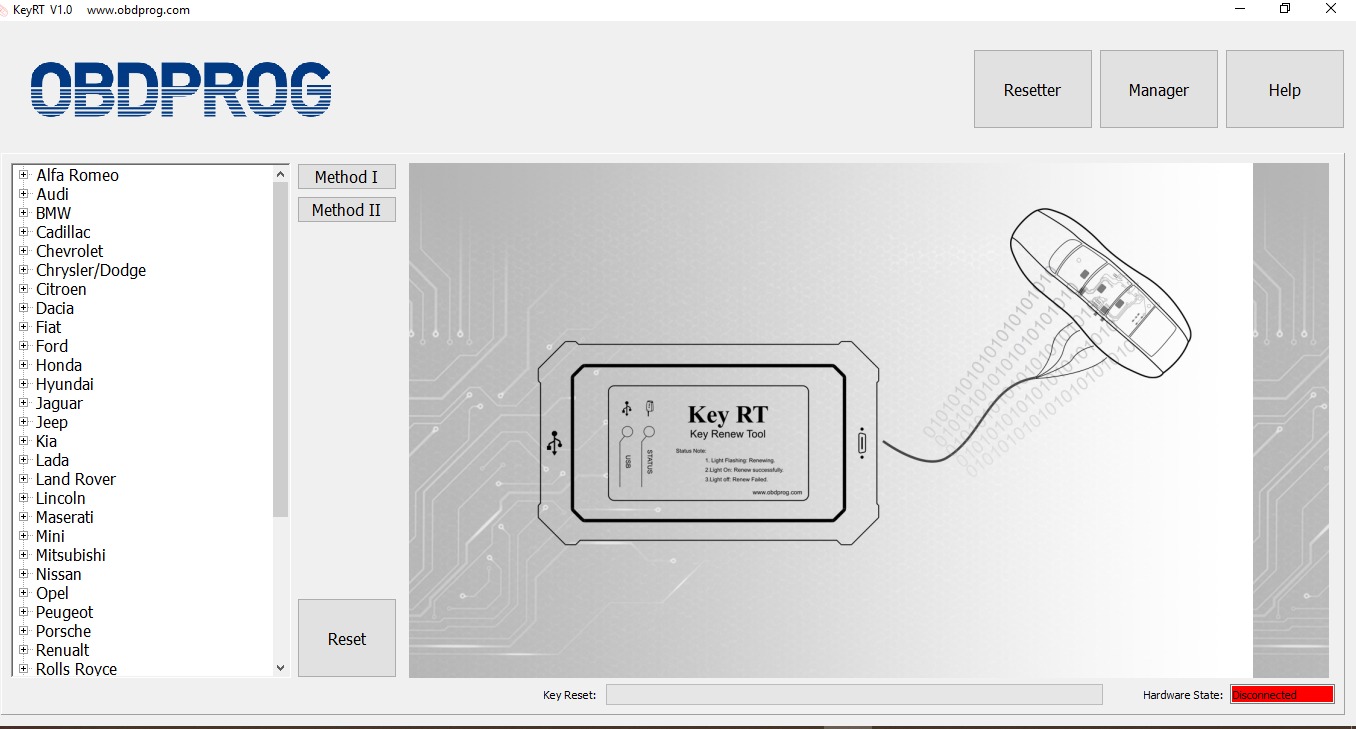 Device support follow chips:
Alfa Romeo
V1 (PCF7341)
V2 (PCF7941)

Audi
V1 (PCF7945AC0902)
V2 (PCF7945AC0911)
V3 (PCF7945AC2319)
V4 (PCF7945AC0902) KeylessGo
V5 (PCF7945AC1415) KeylessGo
V6 (PCF7945AC1500) KeylessGo
V7 (PCF7945AC1411) KeylessGo
V8 (PCF7945ATJ807) KeylessGo

BMW
E-Series
Remeo (PCF7945)
KeylessGo (PCF7952)
KeylessGo (PCF7953)

F-Series
Hella
V3 433MHz 5FA 011 926-09(PCF7953VC1900)
V6 433MHz 5FA 011 226-19(PCF7953VC1900)
V7 433MHZ 5FA 011 920-15(PCF7953VC1900)
V9 433MHZ Korea(PCF7953VC1900)

HUF
V1 433MHz HUF5663(PCF7953PC1800)
V2 433MHz HUF5661(PCF7953PC1800)
V5 433MHz HUF5767(PCF7953PC1800)
V8 433MHz HUFxxxx(PCF7953PC1800)
V10 315MHz HUF5662(PCF7953PC1800)

Siemens
V4 315Mhz 5WK49663(PCF7953PC1100)
V11 315MHz 5WK49661(PCF7953PC1100)

China E-Series
V1 (PCF7952)
V2 (PCF7952)
V3 (PCF7941)
V4 (PCF7961)
V5 KeylessGo(PCF7952)

China Specific
V1 433MHz(PCF7952)(BeiJing)
V2 315MHz(PCF7961)(ShangHai Buick)
V3 433MHz(PCF7952)
V4 433MHz(PCF7952)(Wagon)
V5 433MHz(PCF7952)(Trumpchi)

Cadillac
V1 315MHz (PCF7952)

Chevrolet
V1 433MHz (PCF7952)

Chrysler/Dodge
Blade
V1 (PCF7941)

Fobic
V1 (PCF7941)
V2 (PCF7941)
V3 (PCF7941)
V4 (PCF7941)
V5 (PCF7941)
V6 (PCF7941)
V7 (PCF7941)
V8 (PCF7941)
V9 (PCF7941)
V10 (PCF7941)
V11 (PCF7941)
V12 (PCF7941)

Citroen
V1 (PCF7941)
V2 (PCF7945)
V3 (PCF7341)
V4 (PCF7953)
V5 (PCF7961)

Dicia
V1 (PCF7961)

Fiat
V1 (PCF7961)
V2 (PCF7941)
V3 (PCF7941)

Ford
V1 (PCF7345)
V2 (PCF7353)

Geely
V1 (PCF7952)

Haval
V1 (PCF7952)

Honda
V1 (PCF7961)
V2 (PCF7945)

Hyundai
V1 (PCF7953)
V2 (PCF7953)
V3 KeylessGo(PCF7953)
V4 (PCF7952)
V5 (PCF7952)
V6 (PCF7952)

Jaguar
V1 433MHz(PCF7953)
V2 433MHz(PCF7945)

Jeep
V1 (PCF7953)
V2 (PCF7953)
V3 (PCF7953)
V4 (PCF7953)

Kia
V1 (PCF7952)
V2 (PCF7953)

Lada
V1 (PCF7961)
V2 (PCF7941)
V3 (PCF7941)
V4 (PCF7961)

Land Rover
V1 433MHz (PCF7953)
V2 (PCF7941) Vogue
V3 (PCF7945) Freelander
V4 (PCF7941) Discovery.Sport
V5 315MHz (PCF7953)
V6 433MHz (PCF7953)

Lincoln
V1 315MHz (PCF7952)

Maserati
V1 433MHz(PCF7953)

Mini
433MHz (PCF7953 38pin)
868MHz (PCF7945)
315MHz (PCF7945)

Mitsubishi
V1 (PCF7952)
V2 (PCF7941)
V3 (PCF7941)

Nissan
V1 (PCF7952)
V2 (PCF7952)
V3 (PCF7961)
V4 (PCF7953)
V5 (PCF7961)
V6 (PCF7953)
V7 (PCF7961)
V8 (PCF7953) Japan
V9 (PCF7953)
V10 (PCF7952)
V11 (PCF7953)
V12 (PCF7952)

Opel
V1 (PCF7341)
V2 (PCF7341)
V3 (PCF7941)
V4 (PCF7941)
V5 (PCF7341)
V6 (PCF7941)
V7 (PCF7941)
V8 (PCF7341)
V9 (PCF7941)
V10 (PCF7961)
V11 (PCF7341)
V12 (PCF7341)

Peugeot
V1 (PCF7961)
V2 (PCF7945)
V3 (PCF7341)
V4 (PCF7341)
V5 (PCF7341)
V6 (PCF7341)
V7 (PCF7941)
V8 (PCF7341)
V9 (PCF7341)

Porsche
V1 KeylessGo 315MHz (PCF7953PC1200)
V2 Remote 315MHz (PCF7953PC1800)
V3 KeylessGo 433MHz (PCF7953PC1800)

Renault
Card
V1 (PCF7952)
V2 (PCF7941)
V3 (PCF7945)
V4 (PCF7953)
V5 (PCF7952)
V6 (PCF7941)
V7 (PCF7953)

Flip
V1 (PCF7961)
V2 (PCF7961)
V3 (PCF7961)
V4 (PCF7961)

Rolls Royce
V1 (PCF7953)

Smart
V1 (PCF7941)
V2 (PCF7961)

Suzuki
V1 (PCF7961)

Toyota
V1 (PCF7953AC1500)

Volvo
V1 (PCF7945)
V2 868MHz KeylessGo (PCF7945)

VW
V1 (PCF7945AC1411)