| | |
| --- | --- |
| Buttons | "3" (Lock - Unlock - Trunk) |
| Weight | 2.000oz |
| Batteries | CR2032 |
| Xhorse Part Number | XNDS00EN |
| Xhorse Remote Type | Wireless Remote |
| Size | 2.8 x 1.42 x 0.83 Inch |
| Panic | No |
| Transponder Chip | Yes |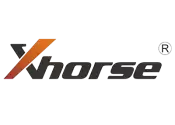 Xhorse / Xhorse Remotes
This is a new universal wireless flip remote key from Xhorse VVDI, DS Style, XN Series, XNDS00EN - XNDS00.
This VVDI remote (XNDS00EN) has 3 buttons, Lock, Unlock, Trunk.
This Xhorse remote (XNDS00EN) needs CR2032 lithium coin battery (not included, purchase separately).
XNDS00EN is designed to use with Xhorse VVDI Key Tool remote generator, VVDI Mini Key Tool, VVDI2, VVDI Key Tool Max, VVDI Key Tool Plus.
This Universal key XNDS00EN is also known as a wireless remote, universal flip key, xhorse key, vvdi key. Comes in a blue package from Xhorse.
Please note that the key blade is Not included with this DS Style Xhorse remote XNDS00EN. We have a variety of universal flip remote key blades; you can purchase it from the link below.
The Roll pin is included for free with each Xhorse remote.
There is a transponder chip installed in this DS Type remote. You can generate or re-generate this remote by using any VVDI key tool, you should install a battery before generating the remote (wireless without a cable).
XNDS00EN is not a key fob replacement for a specific car make, it is a universal remote which can be generated to many cars make and models. You can install the Xhorse app and check the supported vehicles list. This key needs to be programmed by a professional automotive locksmith.