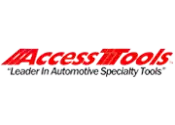 Access Tools / Access Tools
The Access Tools Value Set AMVS includes the most common in-the-door metal tools plus additional accessories used to open vehicles. All the in-the-door tools feature our unique Tool-ID system that aids in locating the correct tool for the job.
The value Complete Set is the perfect set for the budget conscious professional who would like a Complete Set of tools for any lockout scenario.
Features
1979-Present Vehicles
Entry level set
Tool ID system
High quality in-the-door tools
Bestselling accessories included
Heavy duty carrying case
What the set includes:
In The Door Tools Included:#23, #26, #35, #47, #65, #74, #81, #82, #86, #88, #89, #91
Car Opening Manual For Auto And Heavy Truck
Flex Max
Button Strip Tool
Heavy Duty 30 Inch Soft Case with Dividers
Quick Car Opening Instructional Manua