Condition
New
Works on the following models:
Chrysler Cirrus (1995-2000)
Chrysler Concorde (1998-2004)
Chrysler Le Baron (1994-1995)
Chrysler LHS (1994-2001)
Chrysler New Yorker (1994-1997)
Chrysler Prowler (1997-2002)
Chrysler PT Cruiser (2001-2005)
Chrysler Sebring (1996-2009)

"Convertible"


Chrysler Sebring (2001-2009)

"Sedan"


Chrysler Spirit (1994-1995)
Chrysler Town and Country (1994-2000)
Chrysler Voyager (2001-2003)
Dodge Avenger (2008-2012)
Dodge Caliber (2007-2012)
Dodge Caravan (1994-2008)
Dodge Charger (2006-2007)
Dodge Dakota (1994-2009)
Dodge Durango (1998-2009)
Dodge Eagle Vision (1993-1999)
Dodge Grand Caravan (2001-2007)
Dodge Intrepid (1994-2003)
Dodge Magnum (2005-2008)
Dodge Neon (1994-2005)
Dodge Nitro (2007-2009)
Dodge Ram Pickup 1500 (1994-2009)
Dodge Ram Pickup 2500 (1994-2009)
Dodge Ram Pickup 3500 (1994-2008)
Dodge Ram Charger (1997-2004)
Dodge Stratus (1999-2006)

"Sedan"


Dodge Stratus (1995-2006)
Dodge Van (1994-2005)
Dodge Viper (1994-2010)
Jeep Cherokee (1994-2001)
Jeep Compass (2006-2007)
Jeep Grand Cherokee (1994-2007)
Jeep Liberty (2002-2009)
Jeep Patriot (2007-2009)
Jeep Wrangler (1994-2009)
Mitsubishi Raider (2006-2009)
Plymouth Acclaim (1994-1995)
Plymouth Breeze (1995-2000)
Plymouth Sundance (1994)
Plymouth Voyager (1994-1995)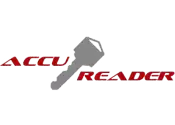 AccuReader / Tools
Accureader for the Chrysler 7 & 8 cut keyway locks. It is designed to read actual depths for each space in any of the Chrysler 7 or 8 cut locks (excluding ignition). It comes with directions and a handy storage container.
It will allow you to read the door/trunk locks for the Chrysler 8 cut locks. It takes only minutes to read the depths for each cut in each position and produce a finished key.
It works on the process of elimination to decipher the correct depths of the lock. By checking the deepest cut first you eliminate what the cuts are not. Therefore it is essential to always read depth slide #4 first.
The AccuReader key is designed to read any wafers in positions 1-8. Most Chrysler doors/trunks will have positions 2-8, once a working key is made for the door simply progress space 1 for a finished key.
Package Contents:
1-AccuReader key
1-insertion/release slide
1-depth slide #4
1-depth slide #3
1-depth slide #2
1-Tube storage container
1-Tube Cap