Condition
New
Works on the following models:
Buick Enclave (2007-2012)
Buick LaCrosse (2005-2009)
Buick Lucerne (2006-2012)
Buick Terraza (2005-2006)
Cadillac CTS (2008-2012)
Cadillac DTS (2006-2012)
Cadillac Escalade (2007-2012)
Cadillac SRX (2007-2006)
Chevrolet Avalanche (2007-2012)
Chevrolet Cobalt (2006-2012)
Chevrolet Equinox (2007-2009)
Chevrolet Express (2008-2012)
Chevrolet HHR (2006-2012)
Chevrolet Impala (2006-2012)
Chevrolet Malibu (2004-2012)
Chevrolet Monte Carlo (2006-2007)
Chevrolet Silverado (2007-2012)
Chevrolet Suburban (2007-2012)
Chevrolet Tahoe (2007-2011)
Chevrolet Traverse (2009-2012)
Chevrolet Uplander (2005-2006)
GMC Acadia (2007-2012)
GMC Savana (2008-2012)
GMC Sierra (2007-2012)
GMC Yukon (2007-2012)
HUMMER H2 (2008-2009)
Pontiac G5 (2007-2010)
Pontiac G6 (2005-2009)
Pontiac Grand Prix (2004-2008)
Pontiac Pursuit (2006-2012)
Pontiac Solstice (2006-2009)
Pontiac Torrent (2007-2009)
Saab 9-7X (2005-2009)
Saturn Aura (2007-2010)
Saturn Outlook (2007-2012)
Saturn Sky (2007-2010)
Suzuki XL7 (2007-2009)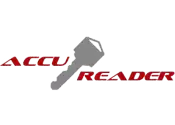 AccuReader / Tools
This system will allow you to read the new 4-depth "O" series or (ortec) GM locks.
It takes only minutes to read the depths for each cut in each position of a given lock.
The AccuReader works on the process of elimination to decipher the correct depths of the lock. By checking the deepest cut first you eliminate what the cuts are not. Therefore it is essential to always read depth slide #4 first.
Package Contents:
1-AccuReader key
1-insertion slide
1-depth slide #4
1-depth slide #3/2
1-Tube storage container
1-Tube Cap