Condition
New
Works on the following models:
Buick LeSabre (2000-2005)
Buick Ranier (2003-2007)
Buick Rendezvous (2002-2007)
Buick Skylark (1994-1995)
Buick Terraza (2007)
Cadillac CTS (2003-2006)
Cadillac DeVille (2000-2005)
Cadillac Seville (1998-2004)
Chevrolet Cavalier (1995)
Chevrolet Monte Carlo (2000-2005)
Chevrolet Uplander (2005-2008)
Chevrolet Venture (1999-2005)
Oldsmobile Achieva (1994-1995)
Oldsmobile Aurora (2001-2003)
Oldsmobile Silhouette (1999-2004)
Pontiac Aztek (2001-2005)
Pontiac Bonneville (2000-2005)
Pontiac Grand Am (1994-1995)
Pontiac Grand Prix (1999-2003)
Pontiac Montana (1999-2004)
Pontiac Sunfire (1995)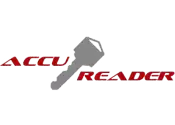 AccuReader / Tools
AccuReader for the GM 10 cut keyway locks. Designed to read actual depths for each space in GM 10-cut locks (excluding ignitions & Ortec locks).
Comes with directions and a handy storage container.
DIMENSIONS: 5 x 6 x 1 in
This system will allow you to read the door/trunk wafers in GM10 cut vehicles. Following a few simple steps, it takes only minutes to read the depths for each cut in each.
The GM10 AccuReader is not designed to be used on the newer GM10 cut key commonly referred to as a Z key. The GM10 AccuReader comes with 2 keys. One is designed to read any wafers in positions 1-5 and the other key is designed to read any wafers found in positions 6-10. Using both keys allow for reading the shallower wafer positions with a fully or almost fully inserted key, increasing the accuracy.
The AccuReader works on the process of elimination to decipher the correct depths of the lock. By checking the deepest cut first, you eliminate what the cuts are not. Therefore, it is essential to always read depth slide #4 first.
Please take the time to familiarize yourself with the tools and verify all pieces are accounted for from the list of contents below:
Package Contents:
2-AccuReader keys
1-insertion/release slide
1-GM10 depth slide #4
1-GM10 depth slide #3
1-GM10 depth slide #2
1-Tube storage container
1-Tube Cap