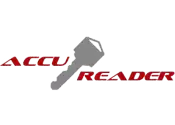 AccuReader / Tools
The Kawasaki KM10 AccuReader was made to decode Kamasaki's newest keyway, commonly called KM10, identified by the ignition being stamped KM10 on the face of it.
Comes with directions and a handy storage container.
This system will allow you to read the new Kawasaki keyway, identified by "KM10" being stamped on the face of the ignition. The KM10 AccuReader will read these locks completely and accurately without the removal of the ignition or other lock.
It takes only minutes to read the depths for each cut in each position for a complete key. The AccuReader works on the process of elimination to decipher the correct depths of the lock. By checking the deepest cut first you eliminate what the cuts are not. Therefore it is essential to always read the deepest possible depth first, in this case the #3 slide.
The AccuReader key is used for all wafer positions 1-8 for a complete key.
Ignition = 1-8
Gas = 3-8
Seat = 3-8
Package Contents:
1-AccuReader key
1-insertion/release slide
1-depth slide #3 I
1-depth slide #2 I / #3 G
1-depth slide #2 G
1-Tube storage container
1-Tube Cap
KM10 Compatibility List