| | |
| --- | --- |
| Product Type | Motorcycle Tools |
| Cross Reference | ACCU-X270, TMC1, ZA-P.P1 |
| Condition | New |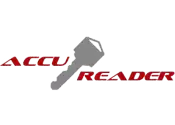 AccuReader / Tools
This system is desiged to read the Zadi (X270) ignition and other locks without the removal of the ignition or other locks.
It takes only minutes to read the depths for each cut in each position for a complete key. The AccuReader works on the process of elimination to decipher the correct depths of the lock. By checking the deepest cut first you eliminate what the cuts are not. Therefore it is essential to always read depth slide #4/3 first. The AccuReader key is designed to be used for wafer positions 4-7 on one side of the key and wafer positions 1-3 on the opposite side of the key.
It is recommended to start from the rear of the lock and work outward to the number 1 position.
Package Contents:
1-AccuReader key
1-insertion/release slide
1-depth slide #4/3C
1-depth slide #4/3OS
1-depth slide #2C
1-depth slide #2OS
1-Tube storage container
1-Tube Cap
X270 Compatibility List
2003+ BUELL Ligtning
2006+ BUELL Ulysses
2000+ BUELL Blast
2002+ BUELL Firebolt
1999+ CAGIVA (MOST MODELS)
1999+ DERBI (MOST MODELS)
1996+ ITALJET (MOST MODELS)
2010+ HONDA SH150i
1996+ KTM (MOST MODELS)
1995+ MOTO GUZZI (MOST MODELS)
1994+ MZ (MOST MODELS)
2005+ PIAGGIO Typhoon
1997-2006 TRIUMPH (MOST MODELS)
1997-2000 YAMAHA Zuma Scooter