| | |
| --- | --- |
| Weight | 1lb - 4.640oz |
| Type | Devices |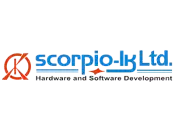 scorpio-lk / Key Programming Devices
Orange5 is a professional programming device for memory and microcontrollers. Unique feature of the current series programmers is built-in macro-language for writing down protocols, which gives fast and easy capability to add new types of micro-schemes, precisely meeting manufacturers' requirements to read/write algorithms.
This set contains most of the popular adapters and is one of the most flexible EEPROM/ FLASH programmer, a powerful tool in your hands.
Technical Info:
Connection and power via USB interface (USB2.0)
Universal easy to plug panel ZIF16 for EEPROM
Control of contacts in the sockets
Two expansions connectors compatible with Orange4 and Omega MTRK
Protection against overcurrent
Overload voltage protection
Two types of power supply: Standart (USB) and enhanced (USB + external power supply)
Three adjustable voltage and current control: Voltage of power supply ( 2.0...5.0V ), programming voltage (2.0...21.0V), additional fixed 10V for microcontrollers.
High-speed bidirectional pin drivers with adjustable voltage (2.0...5.0V)
Oscillator clock generator with frequency ( up to 24 Mhz) and out voltage (2.0...5.0V) adjustment.
Capability of functional emulation of USB CDC devices.
Built-in 32-bit virtual machine
Supported interface: I2C, SPI, MicroWire, JTAG, UART, BDM, ISO7816, K-LINE (via adapter), CAN (via adapter);
plastic case.
Software
Maximum buffer size - 32Mb;
Users can create own HPL modules;
Edit 8 and 16 bits HEX values, as well as ASCII.
Read and write files in BIN, HEX, S19 formats;
Visual compare mode with highlight values;
Write all chip or marked area;
Support for multiple configuration files;
Auto-save backups;
Extended set of operations on the buffer;
Works under Windows XP,WIN7,WIN8,WIN10 (32 bit and 64 bit).
IMMO HPX for Orange5
Set contains:
Orange5 device
Orange5 Software
Orange5 USB base + Motorola license
USB cable
SOIC8 clip POMONA with leads
DIP8 clip POMONA with leads
PLCC extractor
All Adapters for Orange5
IMMO HPX License coverage
PCF
PCF7941
Alfa Romeo
BSI
147
Audi
BCM2
Ver.1 uPD70F3239
Ver.1 uPD70F3380
Ver.2 uPD70F3380
Ver.1 uPD70F3634
Dash
A2 VDO crypto 93C86
A3 UKNSI 93C56
A3 VDO '97/99 93C66
A3 VDO crypto 93C86
A3 MM 912DG128
A4 UKNSI 0012-003 93C56
A4 UKNSI 0014-001 93C56
A4 UKNSI 0016-001 93C56
A4 UKNSI '97/98 93C56
A4 VDO '97/99 93C66
A4 VDO '99/01 93C86
A4 MM 912DG128
A6 UKNSI 0012-001 93C56
A6 UKNSI 0014-001 93C56
A6 UKNSI 0016-001 93C56
A6 VDO '97/99 93C66
A6 VDO '99/01 93C86
A6 VDO crypto 93C86
A6 MM 912DG128
S3/S6 MM 912DG128
TT MM 912DG128
Immo
'94/97 4A0 953 234 93C46
Delphi 8D0 953 234 93C46
ECU
'00/04 ECU EDC15 24C04
A3 1.8T 0261204678 24C02
A4 1.8T 0261204778 24C02
A4 '02 8E0 909 xxx 95040
ELV
MC68HC908GR16A[4L35K]
MC68HC908GR16A[0M76Z]
BMW
Dash
Dash with M35080
Immo
EWS-3 HC11EA9 clips [0D46J]
EWS-3 HC11EA9 wires [0D46J]
EWS-3 HC11EA9 adap [2D47J]
EWS-3+ HC11EA9 clip [0D46J]
EWS-3+ HC11EA9 adap [2D47J]
Chery
All Chery with 0L72A
All Chery with 0L59X
Chevrolet
Immo
Captiva MC9S08DZ60 [3M05C]
Chrysler
Immo
SKIM immobox 24C02
Ram uPD70F3626
CitroenBSI
Berlingo 03/06 BSI v1 95160
Berlingo 03/06 BSI v2 95160
Berlingo 03/09 BSI v3 95160
C2 '03/04 BSI 95160
C3 '02/04 BSI v1 95160
C3 '02/04 BSI v2 95160
C5 '01/04 BSI 912DG128
C5 '02/04 BSI 95160
C8 '03/04 BSI 912DG128
Picasso '03/04 BSI 95160
Xsara II '01/03 BSI 95040
Immo
Berlingo Valeo 93C46
Jumper '99/06 Delphi 93C56
Jumpy 705E6 [F82B]
Relay Delphi 93C56
ECU
Xsara ECU EDC15C2 95P08
DAF
Immo
MC68HC908AZ60 [2J74Y]
MC68HC08AZ32A [2L52H]
Dodge
Immo
SKIM immobox 24C02
Fiat
Automotive K/CAN
IMM 009.10 (More Information)
BSI
Albea 912DG128 [3K91D]
Panda '02 BSI [1L40K]
Stilo 912DG128 [3K91D]
Stilo BSI [1K79X]
Strada BSI [1K79X]
Immo
IMM001.11 [1K59H]
IMM009.01 [1K59H]
IMM009.01 [0L72A]
IMM100.01 [1K59H]
IMM110.01 [1K59H]
Bravo 705E6 [G72G]
Bravo 705E6 Clips [G72G]
Bravo 08AZ32 [1H56A]
Cinquecento '96 93C46
Coupe '96 immobox BOSCH 93C46
Ducato Delphi 93C56
Marea 08AZ32 [1H56A]
Punto 93C46
Punto Delphi 93C66
Scudo 705E6 [F82B]
Palio '09 [0L72A]
Seicento Delphi 93C56
ECU
Scudo '01 JTD EDC15C2 95P08
Ford
BSI
Focus '03- 9S12XEP768 [5M48H]
Dash
4M5T MC9S12H128[1K78X]
8VT4 MC9S12XHZ256[1M80F]
ECU
Focus '00 ECU 77012
Gilera
ECU
Fouco 500 [ST10F269]
Great Wall
Immo
With 0L72A
Hyundai
ECU
Accent KEFICO ECU M95160
Elantra KEFICO ECU M95160
Honda
Immo
Acord '06 Immo HIS-5 93C46
Legend '07 Immo HIS-5 93C46
Valeo HC05B6 [0F10V]
Valeo HC05B8 [3D33J]
Valeo HC705B16 [0D28J]
KEIHIN 38770-MFJ-D04 93C66
Jeep
Immo
Grand Cherokee 08AZ32 0J66D
Grand Cherokee '13 uPD70F3626
Grand Cherokee '09 uPD70F3629
SKIM immobox 24C02
KIA
Immo
'99/01 Immobox 93C46
ECU
Cerato KEFICO ECU M95160
Lancia
Immo
Kappa immobox BOSCH 93C46

Mahindra
Automotive K/CAN
XYLO & Scorpio
Mazda
Immo
Lucas 19AS HC05B8 [3D33J]
SKLC
2 '09- MC9S12XDT384
Demio '09- MC9S12XDT384
ECU
6 ECU 93A66
Mercedes Benz
Immo
Sprinter 05X16 [0D62J]
Sprinter/Vito 08AZ32 [0J66D]
Sprinter/Vito 08AZ32A [L52H]
EZS
W203 908AZ60 [1J35D]
W203 908AZ60 [1J35D]
W203 908AZ60 [4J74Y]
W220 908AZ60 [1J35D&4J74Y]
W639 Vito '03/up [1L02M]
W639 Vito '03/up [3K85K]
W639 Vito '03/up [4J74Y]
Nissan
Immo
Immobox with TMS370Cx2x
BSI
Skyline [1L15Y] Wires
Automotive K/CAN
NATS-2 (Motorola) (More Information)
NATS-2+ 5WK4 652 (More Information)
NATS-4 (TMS) (More Information)
NATS-5 (TMS) (More Information)
NATS-5 (ST) (More Information)
NATS-5 (TMS in 5WK48645) (More Information)
Opel
Immo
Immo HC05B6 [0F10V]
Immo TMS370C002 (PLCC28)
Immo 5WK4 7631[0L72A]
Peugeot
BSI
307 '01/03 BSI 912DG128
307 '01/03 BSI 912DG128A
307 '02/05 BSI 95160
807 '04/05 BSI 912DG128
807 '05/06 BSI 95128
Immo
Boxer Delphi 93C56
106 Valeo 93C46,
Partner Valeo 93C46
Piaggio
Immo
Vespa '95 AEC302C 705E6 [0F82B]
Renault
Immo
Clio-I immobox Sagem 93C46
Clio-II '98 BMT Sagem 93C46
Kangoo immobox Sagem 93C46
Master '99-01 immobox Sagem 93C46
UCH
Clio III Sport [3L91N]
Megane [4L91N]
IR key
Clio key with MC68HC05K3
Rover
Immo
Valeo HC05B6 [0F10V]
Valeo HC05B8 [3D33J]
Valeo HC705B16 [0D28J]
EWS 9S12DG128 [3L40K]
Seat
Dash
Cordoba VDO '99/01 93C86
Cordoba VDO '03/05 93C86
Cordoba MM 9S12H256
Ibiza VDO '00 93C66
Ibiza VDO '99/01 93C86
Ibiza VDO '03/04 93C86
Ibiza VDO crypto 93C86
Ibiza MM 9S12H256
Ibiza 6J0 920 801A 24C32
Ibiza 6J0 920 802H 24C64
Ibiza 6J0 920 804L 24C64
Leon VDO v.1 93C86
Leon VDO v.2 93C86
Leon VDO v.3 93C86
Leon VDO v.4 93C86
Toledo VDO v.1 93C86
Toledo VDO v.2 93C86
Toledo VDO v.3 93C86
ECU
EDC15 '00/04 24C04
EDC16U1 '04/06 95320
EDC16U31 '03/05 95320
Skoda
Dash
Fabia VDO '00/01 v1 93C86
Fabia VDO '00/01 v2 93C86
Fabia VDO '04 93C86
Fabia VDO crypto 93C86
Felicia VDO 93C66,
Felicia VDO '01/02 93C86
Oktavia VDO 93C66
Oktavia VDO '00/05 93C86
Oktavia VDO crypto 93C86
Roomster VDO crypto 93C86
SuperB VDO '02/04 93C86
SuperB VDO crypto 93C86
ECU
'00/04 ECU EDC15 24C04
'05/06 ECU EDC16U1 95320
SsangYong
Immo
87110-0930 MSP430F1232
87110-0910 MSP430F1232
MSP430F1232 (universal)
VDO MC68HC05B16 [0D60J]
Suzuki
Immo
Baleno '99- 93C66
Swift '99- 93C66
Alto 24C01
Ignis 24C01
Jimny 24C01
SX4 [0L72A]
Toyota
Immo
Immobox 89780-12070 93C66
Immobox 89780-20010 24C04
Immobox 89780-42030 93C66
ECU
ECU 89661-50440 93C56
VW
BCM2
uPD70F3634
VW Beetle dash
Beetle 912D60
Beetle '03/05 912DG128
Beetle 03/05 912DG128C L05H
Beetle 05/06 9S12H256 K78X
VW Beetle ECU
Beetle EDC16U31 95320
VW Bora dash
Bora MOT'99/00 24C02
Bora VDO 93C66
Bora VDO '99/00 93C86
Bora VDO '01 93C86
Bora VDO '01/03 93C86
Bora VDO '03/05 93C86
VW Caravelle ECU
T5 '04/06 EDC16U1 95320
T5 '04/06 EDC16U31 95320
VW Fox dash
Fox MM 9S12H256
VW Golf dash
G4 MOT 24C02
G4 MOT '01/03 24C08
G4 BOSCH '02/03 24C08
G4 VDO 93C66
G4 VDO '99/00 93C86
G4 VDO '01 93C86
G4 VDO '01/03 93C86
G4 VDO '02/03 93C86,
G4 MOT addr.line 24C02
G6 5K0 920 870C 24C32
G6 5K0 920 872A 24C64
G6 5K0 920 873A 24C64
VW Jetta dash
Jetta VDO '00 93C66
Jetta VDO '99/01 93C86
Jetta VDO '01 93C86
VW Passat dash
Passat B5 MM HC11KG4
B5 VDO 93C66
B5 VDO '99/01 93C86
B6 VDO '01/02 93C86
B6 VDO '03/04 93C86
MOT addr. line 24C02
VW Pointer dash
Pointer '05/06 93C66
VW Polo dash
Polo VDO '01/02 93C86
Polo VDO '01/04 93C86
Polo VDO crypto 93C86
VW Polo ECU
Polo '04 ECU 1.4 MM 95320
VW Sharan ECU
Sharan '00/04 EDC15 24C04
Sharan 06/07 EDC16U31 95320
VW Touran ECU
ECU EDC16U34 '06/07 95320
VW Transporter dash
T4 VDO '01/03 93C86
T5 VDO '03/07 93C86
VW Transporter ECU
'00/04 ECU EDC15 24C04
'03/06 ECU EDC16U1 95320
'03/07 ECU EDC16U31 95320
Immo
Fox '08 Brazil 93LC56
Immo HC05B6 [0F10V]
Immo HC05B6 [0B91T]
Immo HC05B8 [3D33J]
Immo TMS370C002 (PLCC28)
ECU
00/04 ECU EDC15
03/06 ECU EDC16U1
03/07 ECU EDC16U31
06/07 ECU EDC16U34