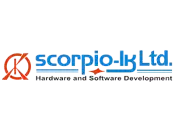 scorpio-lk / Key Programming Devices
Orange5 is a professional programming device for memory and microcontrollers.
Unique feature of the current series programmers is built-in macrolanguage for writing down protocols, which gives fast and easy capability to add new types of microschemes, precisely meeting manufacturers' requirements to read/write algorithms.
Technical Information:
USB power supply (USB2.0/3.0)
Universal easy to plug panel ZIF16 for EEPROM
Control of contacts in the sockets
Two expansions compatible with Orange4 and Omega MTRK
Protection against overcurrent
Overload voltage protection
Two types of power supply: Standard (USB) and enhanced (USB + external power supply
Three 3 adjustable voltage and current control: Voltage of power supply ( 2.0...5.0V ), programming voltage (2.0...21.0V)
Additional static 10V for microcontrollers
High-speed bidirectional pin drivers with adjustable voltage (2.0...5.0V)
Wave cycle generator with frequency ( up to 24 MHz) and out voltage(2.0...5.0V) adjustment.
Capability of functional emulation of class CDC USB devices
Built-in 32-bit virtual machine
Supported interface: I2?, SPI, MicroWire, JTAG, UART, BDM, ISO7816, K-LINE (via adapter), CAN (via adapter)
Programmer is enclosed in a functional box
Supported OS: Windows XP / 7 / 8
Orange 5 Programmer Feature:
Supports any COM ports, incuding virtual ones from 1 to 20
Works with text (ASCII) and HEX mode
Creating a list of commands that allows editing and fast sending
Fine-tuning the exchange rate
Saving files including command and port settings.
Saving incoming data in binary files
File transfer via serial port.
Delay settings for bytes and blocks
"Echo" mode
Delay settings between incoming data
Managment of DTR, RTS chains, visualising DSR, CTS, CD, RI
Program doesn't need to be installed
Supports Orange5 programmer in emulation mode.