| | |
| --- | --- |
| Power | 200W |
| LED Screen Resolution | 1280 x 720pixels |
| Motor Rotation Speed | 10000rpm |
| Package Dimensions | 21 |
| Product Dimensions | 16.3 |
| Input Frequency | 47~63HZ |
| Input Voltage | 90~264V |
| Net Weight | 19kg / 42lbs |
| Gross Weight | 22.9kg / 52.91lbs |
| USB Port | DB15 |
| User Interface | Graphic-Driven Touch-Screen |
| Type | Machines |
| Condition | New |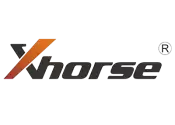 Xhorse / Key Cutting Machines
Xhorse Condor XC- Mini Plus II 2022 is the 2nd generation of Xhorse Condor XC-Mini Plus 2020 automatic key cutting machine. Driven by AI technology and 8 core processor, it has a higher performance compared with its former edition.

Xhorse Condor XC- Mini Plus II is able to quickly and accurately identify almost all car keys, motorcycle keys, plastic keys and aluminium keys while connecting to a key reader. It maintains excellent performance even under extreme weather. With Condor XC- Mini Plus II, users get a piece of art rather than a normal duplication result. It does not just simply complete the duplicate process. Xhorse Condor XC- Mini Plus II is a work of art, but has strong capability.

Xhorse Condor XC- Mini Plus II can produce super high precision processing results. The finished keys passed the precision test of the advanced optical instrument. The machine can deliver high accuracy processing results even after cutting over 150,000 keys.
Highlights of Condor MINI Plus II
Support Car, Motorcycle, Household keys.
Update online directly on mini plus ii.
Intelligent Indicator Light, 7'' HD Touch Screen.
Key Blank Engraving
8-Core Process
Optical Key Bitting Recognition (Work with KEY READER)
All-purpose Clamps Extraordinary Versatility
All Key Lost Solution
Key blank Engraving
Key Data Customization
Support Bluetooth and WiFi
Key 3D Preview
8-core Processor
With 8-core processor, Xhorse Condor XC- Mini Plus II can realize prompt response, faster running speed and high resolution.
Intelligent Color Synchronization
This smart indicator light, assembled by the advance LED chips and lamp shade, seamlessly automates the color with the change of real-time working status, ensures a stable light source and intelligent status indication with flicker-free illumination and long service time.
Red light – error warning Blue light – normal working Yellow light – info notification
Smart 2-in-1 M5 Clamp and Multi-purpose Clamps
Condor XC-Mini Plus II is equipped with M5 and M3 clamps. M1, M2, M4 clamps are for options. The multifunctional clamps support a variety of key types such as side, track, tibbe, F021&Citron SX9 keys, residential keys, etc.
M5 is a 2-in-1 clamp of M1&M2, supports 2 track external, channel track, standard single sided, 4 track external, 4 track internal, standard double sided, dimple key types. More convenient to be switched into M1&M2 clamps directly, no need to install or disassemble clamps over and over again.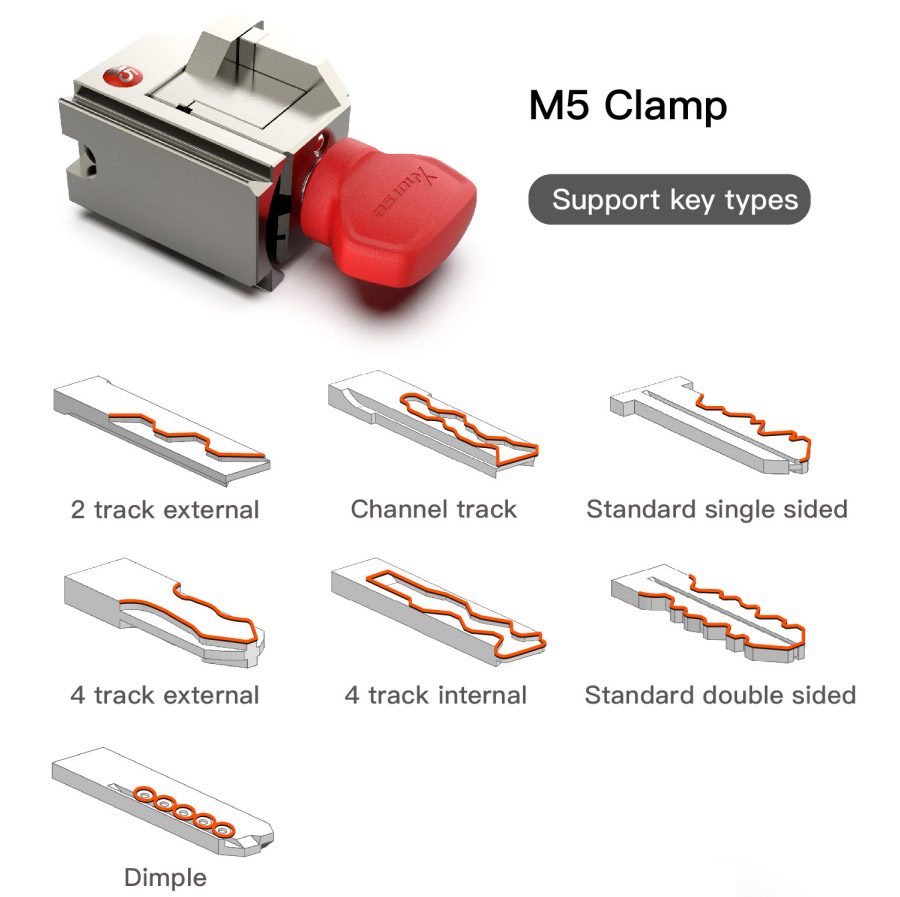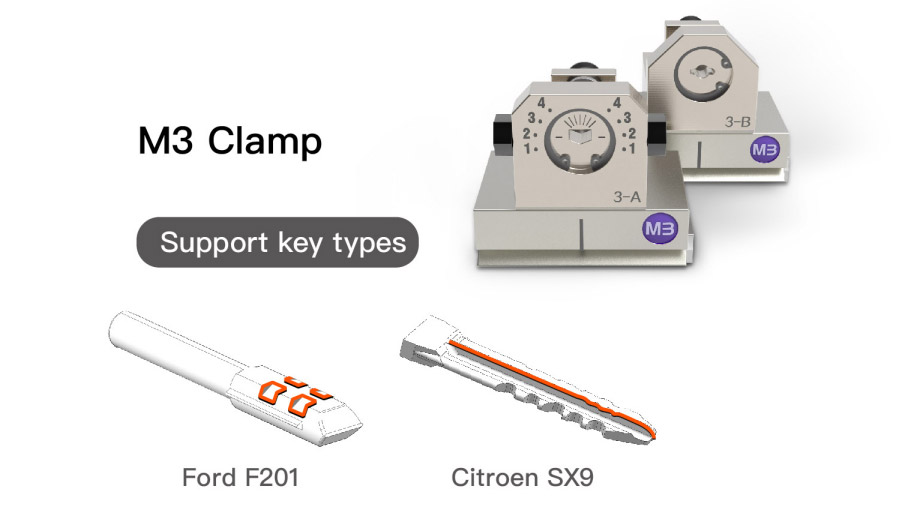 Xhorse Condor 2 Package List:
1pc x Machine
1pc x Clamp M5 and link stopper
1pc x Clamp M3
1pc x Clamp M4 ( optional )
1pc x 1.5mm cutter
1pc x 2.5mm cutter
1pc x Probe
1pc x 2mm+4mm 3mm hexagon bar wrench
1pc x 3mm hexagon bar wrench
1pc x 1.5 Power cord of UK standard (optional)
1pc x 1.5 Power cord of US standard (optional)
1pc x 1.5 Power cord of EU standard (optional)
1pc x Brush
1pc x Product qualitty certificate
1pc x User manual