| | |
| --- | --- |
| Tracers | P1 |
| Motor | 220V-50Hz 200W |
| Cutters | F1 |
| Measurements | 270 x 378 x 340 mm |
| Weight | 39.68lb |
| Type | Machines |
| Condition | New |
| Weight | 18 KG |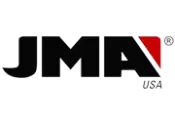 JMA / Key Cutting Machines
VERSATILE, SIMPLE AND HIGH-QUALITY DUPLICATION
Neo is the machine that combines precision and simplicity when copying security, sidewinder and special keys. It adds new features, such as LED lighting and a protection shield for the work area.
This machine incorporates a new clamp that enables security and sidewinder keys to be held in place without needing an adapter.
This machine is the first in its category with a new clamp to hold security and sidewinder keys in place without needing an adaptor.
Our new duplication machine is the best option for those just starting out in the security and sidewinder key duplication sector. With only minimal investment, this machine can copy a wide range of keys. Its robust design with clean lines and ergonomic shape perfectly suits the new range of JMA machines. The various protection shields that cover the moving parts provide operator safety during the duplication process, and the on/off buttons have been placed within easy reach.
JMA's years of experience in manufacturing duplication machines have made it possible to include new features in this next-gen machine, Neo.