| | |
| --- | --- |
| Motor | 220 VDC- 150W. |
| Cutter | FP11 HSS (Ø63 x 5 x 16) /FP 32 ( (Ø63 x 2,4 x 16) |
| Clamps | Reversible 4 faced |
| Width | 266 mm |
| Height | 215 mm |
| Depth | 165 mm |
| Speed | 2800 rpm |
| Useful Run | X= 53 mm |
| Transmission | Ribbed belts |
| Displacement | Over Glycodur bearings |
| Type | Machines |
| Condition | New |
| Weight | 6,5 kg |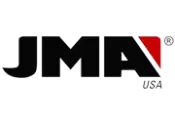 JMA / Key Cutting Machines
A LIGHTWEIGHT AND COMPACT TRAVEL COMPANION
The new NOMAD machine from JMA guarantees total flexibility in your key duplication service. Lightweight and highly compact, NOMAD is the perfect tool for copying flat keys anywhere, even inside a vehicle. Its ease-of-use, precision and key finish quality are more than enough reasons to make NOMAD your next travel companion.
LIGHTWEIGHT AND EASY TO CARRY
Weighing only 6.5 Kg and measuring 26 cm in length, NOMAD is perfect for working in small spaces. Ideal for duplication professionals who use vehicles to provide a service.
STRONG AND ERGONOMIC FOUR-SIDED CLAMPS
Made from steel for guaranteed durability and cutting precision. Their four sides also provide increased convenience and reliability when gripping keys.
CARRIAGE MOTION FLUIDITY
To faciliate operation and increase ergonomics. The carriage assembly wheel means that movements are smooth and reduces the force required for operation.
MICROMETRIC TRACER ADJUSTMENT
This calibration system enables precise adjustment of the tracer and guarantees duplication precision.
ABRASIVE NYLON BRUSH
Facilitates a perfect finish for any key copy.
Being made from nylon, this also prevents any accidental "cuts" for the professional during operation.
WORK SAFELY
NOMAD includes a safety mechanism that ensures the machine is automatically turned off in the event of a power loss. When power is restored, the machine must be manually restarted.