| | |
| --- | --- |
| Voltage | V/5A |
| Power | 120W |
| Size | 12(W)x11.81(H)x15.75(D)in. |
| Weight | 35.5 lbs. |
| Working Temperature Range | 0-104F |
| Working Humidity Range | 10-90% |
| Cuuting Accuracy | XY Axis :0.0025mm - Z Axis:0.0025mm |
| Usage | Cut and engrave automobile, motorcycle, commercial, residential, dimple, tubular & tibbe keys. |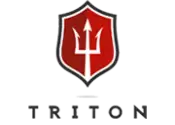 Triton / Key Cutting Machines
Description
The Triton considered as brand new concept in key cutting technology. The Triton is an all-in-one key machine that have the ability to generate & duplicate more keys than any other machine in its class. From automotive to commercial, tibbe to tubular, and even engraving, Triton will prove to be a cut above the rest.

You can control it through 7" touchscreen, the Triton provides step-by-step guidance throughout each of its features, making it one of the most easy key cutting machines to operate. Though its core operations have been simplified, there are a host of other robust features for more seasoned users. Whether you're a novice or an old pro, the Triton's full suite of key cutting features truly offer something for everyone.

The Triton's one of a kind design that support cutting 99% of all commercially available car and motorcycle keys, including single and double-sided, high security, tibbe (6 and 8-cut), and tubular. Custom search functions include the abilities to search by vehicle model, keyway, or IC card number.

In addition to its superior automotive capabilities, the Triton also contains a comprehensive database of commercial & residential keys and can even generate dimple cut keys. The integrated, proprietary key code database on the Triton supports key cutting directly by code for most automotive keys, streamlining your workflow and eliminating the need to reference other code sources.

The Triton's direct duplication feature traces and cuts unknown keyways for those rare instances you have an original key and a compatible blank but no space and depth information. The advanced key tracing feature will also account for wear on known keyways and automatically round off to meet original key specifications or cut to a perfect match if that's what you desire. You can also create custom key profiles that will allow you to input your own space and depth info and tether it to the keyway of your choice. In short, the Triton has you covered whether or not you have a key code in-hand.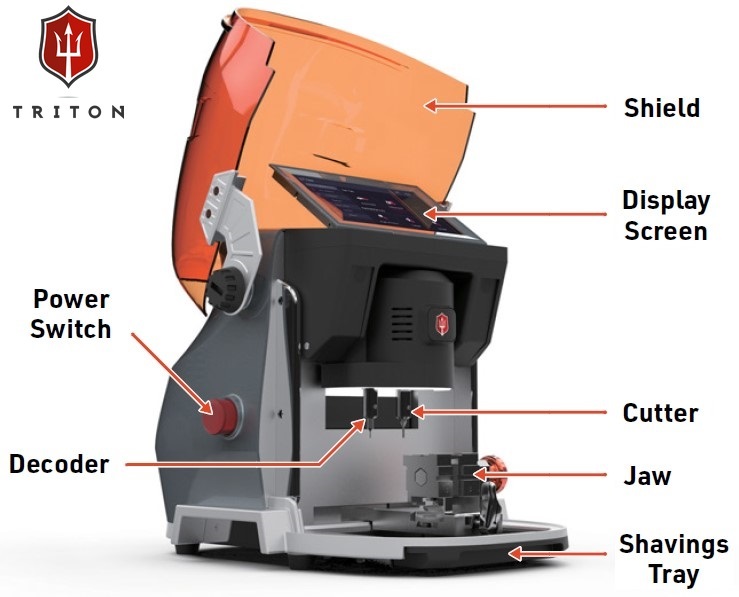 Outstanding Features
A 12-volt power adapter (sold separately) that will allow you to operate the machine with the power from your vehicle cigarette lighter.
Unlimited, free updates for the life of your machine. You can update your machine via Wi-Fi (there is no need to connect to your PC).
Removable chip tray for easy clean-up without having to unmount the machine from your bench or vehicle.
Bolt down kit (sold separately) for the safe and secure mounting of your machine to the surface of your choice.
A patented 4-way jaw (included) design that is capable of handling an overwhelming majority of all automotive key cutting needs.
A fully-integrated, all-in-one design that includes onboard storage for all cutting bits and tracers.
2-year warranty which protects against all machine failures that result from flaws in manufacturing.
Includes:
2 - Standard 2.0mm Cutter
1 - 1.5 Cutter
2 - Standard 1.0mm decoder
1 - Brush
1 - Allen Wrench 1.5mm
1 - T-wrench 2.5mm
1 - Brush
1 - Product Manual
List of Recommended & Replacement Accessories:
TRJ5 Engraving Jaw (customize customer keys with your logo or help them stay organized with key labels)
TRC4 Engraving Cutter
TRC3A Sharp Dimple Cutter
TRC3B Shallow Dimple Cutter
TRD2 Dimple Decoder
TRC1 2.0 Standard Replacement Cutter
TRC2 1.9mm Cutter
TRA4 12-Volt Vehicle Power Adapter (fully power your Triton with nothing more than than a vehicle cigarette lighter)