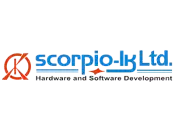 scorpio-lk / Key Programming Devices
BARRACUDA KEY PROGRAMMER
Scorpio-LK's Barracuda programmer is a new platform which is intended to complement Tango programmer in our pursuit to release solid solutions for locksmiths and users working in the sphere of automotive repairs and vehicles maintenance.
Barracuda will not replace Tango or Orange-5, functions previously released on these programmers won't beimplemented in Barracuda.
The first branch of Barracuda programmer features which will be available at release and be included in the base software is Reset/Renewal of used HITAG based vehicle keys.
Every reset function released in Barracuda programmer is independently developed, tested and digitally signed by us.
Similar to Tango, Barracuda is a long-term project. We have already started developing and implementing new functions which will be released through the upcoming Barracuda online updates. New functions will be modular, some of them will be included in the base software, others will require additional activation.
Barracuda base version (at release):
Barracuda base hardware
Barracuda base software
Barracuda database HITAG reset module 1
Barracuda Lead PCF 1 (in-circuit, soldering tips)
Barracuda Lead PCF 2 (in-circuit, 2xCrocodile clips & 2xProbe needles)
Adapter PCF (in-circuit & expansion)
Adapter PCF 7941 (for soldering)
Adapter PCF 7945AC (for soldering)
Adapter PCF 7952 (for soldering)
Adapter PCF 7953/45 (for soldering)
Adapter PCF 7953 38pin (for soldering)
Adapter PCF 7961 (for soldering)
Barracuda requirements:
Barracuda programmer
Windows XP/7/8/10 PC/Laptop
Power supply adapter 9-24V DC plug size 5.5x2.1mm (not included in base version)
USB 2.0/3.0